2008 Dr. F.X. Aherne Prize Winners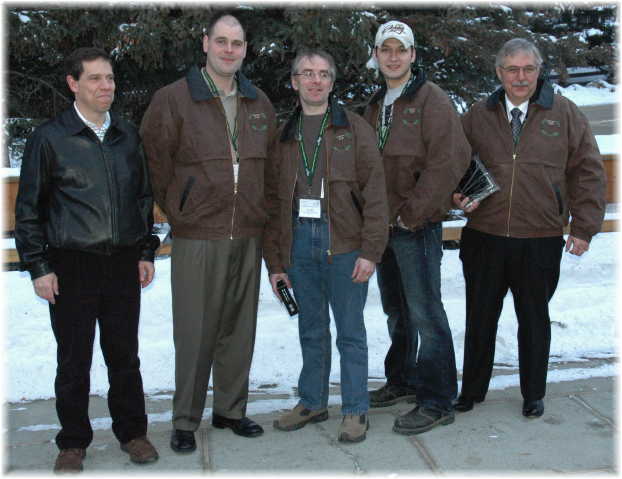 F.X. Aherne award winners, left to right: Eduardo Beltranena, Alberta Agriculture and Food, committee chair; Phil Beaulac, Fast Genetics, Spiritwood, Sask.; Dave Ross and Shane Sigurdson, Paragon Pork, Lacombe, Alta.; and Willie Hoffman, Prairie Orchard Farms Winnipeg, Man.
Banff, Alta. January 17, 2008: Although growing global affluence will likely mean growth opportunities for the world's pork producers, the question for Canadian pork producers is where in the world pork will be produced, say two leading analysts of the global pork industry who spoke at the 2008 Banff Pork Seminar. Banff Pork Seminar is a key agricultural Seminar featuring presentations on the major issues facing the industry today.
Several innovators in the Canadian pork industry were honoured for their contributions to pork production at the 2008 Banff Pork Seminar, held Jan. 15-18.
The winners of this year's F.X. Aherne Prize for Innovative Pork Production include Willie Hoffman of Prairie Orchard Farms in Winnipeg, Manitoba; Dave Ross and Shane Sigurdson of Paragon Pork in Lacombe, Alberta; and Phil Beaulac of Fast Genetics in Spiritwood, Saskatchewan.
"With the many challenges the Canadian pork industry faces today, it has never been more important to develop practical innovations that producers can use to help themselves become more profitable and globally competitive on their operations," says Dr. Eduardo Beltranena of Alberta Agriculture and Food, chair of the F.X. Aherne prize committee.
"The F.X. Aherne Prize for Innovative Pork Production is an opportunity for the industry to recognize those individuals who have developed either original solutions to pork production challenges or creative uses of known technology."
The awards are named after the late Dr. Frank Aherne, a professor of swine nutrition and production at the University of Alberta in Edmonton and a driving force in the western Canadian pork industry. "Frank was responsible for several innovations that the pork industry still benefits from today. These awards honour his memory while recognizing those who continue to make contributions to the pork production industry."
Willie Hoffman, a leading innovator in the field of value-added pork products, was recognized for his development of Omega-3 Enhanced Pork. Food enriched with this favourable form of fat has been attributed with cardiovascular benefits, cancer prevention properties and human mental health benefits. The product has also been recognized by head restaurant chefs for its superb taste qualities.
"Omega-3 Enhanced Pork is an example of a pork producer responding to greater health awareness among consumers today. It meets a need in the marketplace that helps increase pork's profile as a healthy, good-tasting source of meat protein," says Beltranena.
Dave Ross and Shane Sigurdson received the award for the development of a sow shoulder pad. This simple vinyl and foam pad device helps prevent sows from developing shoulder sores while laying on their sides for long periods of time nursing piglets.
"The sow shoulder pad is an ingenious way of promoting comfort for the animal," says Beltranena. "From a production perspective, the shoulder pad reduces the need to wean affected sows early. The lack of shoulder sores also increases the value of sows considerably."
Phil Beaulac received an F.X. Aherne Prize for his development of a wall-mounted geared box system to open breeding stock tube feeders at once. The geared box replaces the traditional cable on a roll-up crank that over time would fray, resulting in maintenance issues and eventually a danger to staff. The gear system turns a horizontal bar above the tube feeders ensuring the cable is wound straight up onto the bar instead of to the side as with the traditional crank cable system.
"This innovation reduces cable repairs, maintenance and feeder replacement costs, helping drive profitability in the process," says Beltranena. "The system has been recognized by Fast Genetics staff as a quick and efficient way for both experienced and inexperienced staff members to drop feed into rows of feeders at a boar stud."
Held since 1972 in Banff, Alberta, the Banff Pork Seminar is coordinated by the Department of Agricultural, Food and Nutritional Science, University of Alberta, in cooperation with Alberta Pork, Alberta Agriculture and Food and other pork industry representatives from across Canada. Program and proceedings of the Banff Pork Seminar are available on the Seminar Web site, www.banffpork.ca.