Aherne Innovator Prize
2024 Dr. F.X.

Aherne

Prize for Innovative Pork Production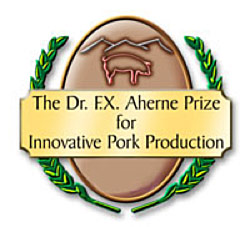 Open to owners, production managers, herdspeople or consultants in the North American pork industry, or ANYONE who has developed an innovation relevant to the North American Pork Production industry.
Deadline for submission October 31, 2023.
The Banff Pork Seminar is proud to offer a chance for anyone who has come up with a new technology or management practice relevant to the North American pork industry to "strut their stuff" as a technology innovator, and show the rest of us how to put it into practice!
The 2024 Dr. F.X. Aherne Prize for Innovative Pork Production includes:
The chance to spotlight your innovation and be recognized as a technology innovator by peers and the pork industry at the

Banff

Pork Seminar
Complimentary registration to the 2024

Banff

Pork Seminar, January 9-11, 2024
Three nights' accommodation at the

Banff

Springs Hotel for the innovator and a guest (based on double occupancy)
Up to $800 reimbursement for travel expenses to and from the 2024

Banff

Pork Seminar.
What can be entered? Any innovation...big or small!!!
We are looking for an original solution developed to answer pork production challenges, or a creative use of a known technology. Not all innovations are complex – simple ideas can be very effective solutions.
The innovation can apply to any segment of the pork industry including feeding; breeding; ventilation; disease control and prevention; transportation; manure management; animal handling; facility or enterprise management; and pork quality and safety.
How do I enter?
Read the attached Contest Rules and Adjudication process information, then complete the attached Application Form and send it to the BPS office at pork@ualberta.ca.
With your application, send a succinct outline description in 400 words or less how this innovation works and details of how this innovation improved pork production.
Include up to five supporting documents, which could include visuals (video, photographs), impact statements or letters of support, financial statements, production data, design plans, drawings, or any other materials that you feel will aid the judges in understanding the innovation and its impact on the production enterprise.
Submit the complete application (hard copy or electronic); electronic submissions are preferred. Your complete application package, including supporting documents, should not exceed 20 pages. Brevity may benefit your application.
Entries must be received by October 31, 2023 to be eligible to compete for the 2023 Award.
Send Entries to:
pork@ualberta.ca
OR by mail to:
Banff Pork Seminar
c/o Dept. AFNS
4-10 Agriculture/Forestry Centre
University of Alberta
Edmonton, AB T6G 2P5
For more information contact:
Phone: 780-492-3651
Fax: 780-492-5771 or
Email: pork@ualberta.ca