2006 Dr. F.X. Aherne Prize Winners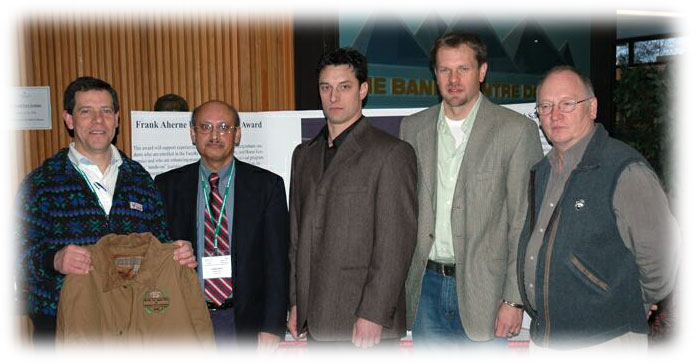 Banff, Alta. Jan. 19, 2006: Three players in the western Canadian pork industry were honoured for innovation in the field of pork production at the 2006 Banff Pork Seminar Jan. 17-20.
The winners of this year's F.X. Aherne Prize for Innovative Pork Production include Dr. Pradip Maiti of Nutratech Inc. in Winnipeg, Man.; Tony Charanduk of Hypor Inc. in Ituna, Sask.; and Darcy Pauls and Dr. Claude Mason of The Puratone Corporation, Niverville, Man.
"The pork industry is driven by innovation," says Dr. Eduardo Beltranena of Alberta Agriculture, Food and Rural Development, who made the presentations. "That is why we honour those people who develop original solutions to pork production challenges.
"The awards also give us a chance to pay tribute to Dr. Frank Aherne, the namesake of the awards and a renowned researcher and educator in the pork industry. Aherne passed away in late 2005, but his name and his work live on through these awards."
Dr. Pradip Maiti received the award for his work in the development of avian egg antibodies against E.Coli, inducing immunity that results in increased growth. With mounting pressure to discontinue the use of antibiotics in the swine industry, Maiti's work has positioned passive immunity as a possible alternative to drugs. This option is generally less expensive and easier to administer compared to drugs.
The study found that nursery diets supplemented with antibody-containing spray dried egg powder (SDEP) without antibiotics increased the body weight of piglets by 2.8 kg over the control group. A diet supplemented by both SDEP and antibiotics increased the body weight of the piglets by 2.0 kg over the control.
"The results of Dr. Maiti's research have the potential to increase growth, shorten days to market weight and reduce mortality and morbidity rates in piglets," says Beltranena. "This is an innovation whose benefits will likely strengthen the pork industry for many years to come."
Tony Charanduk received his award for developing an accelerated boar training system that has substantially reduced training periods since its inception.
This system, which uses trained boars to train unmated boars, has allowed the 115-boar Hypor AI stud to train one boar every 10 minutes, maintain a 200 percent turnover required for genetic improvement in the boar stud and sustain full production year-round. The man-hours to train a group of 30 boars have been reduced from 80 to 18 hours since introducing the technique.
"In addition to reducing the training period and maximizing production, this system has reduced the stress on both animals and staff," says Beltranena.
Darcy Pauls and Dr. Claude Mason were recognized for developing a hip injection technique for vaccinating breeding stock. This production technique was recently approved by the Canadian Pork Council's Canadian Quality Assurance (CQA) program as an acceptable management practice. The procedure helps amend the difficulties involved in administering vaccines in the neck of mature animals housed in farrowing crates or dry sow stalls.
"Neck injection can be difficult to administer to sows housed in gestation stalls," says Beltranena. "Using the hip as the preferred injection location allows the technician to walk behind the sow, allowing for a more passive approach to animals, making it safer for both animals and the handler."
Now in its fourth year, the F.X. Aherne Prize for Innovative Pork Production was instituted to offer recognition for practical on-farm technology innovations that answer production challenges.
The award applies to producers, owners, production managers or consultants in the western Canadian pork industry, and all innovations entered must be in use on a farm in Western Canada. Innovations nominated fit into one or more of six categories: improved productivity, improved profitability, improved working conditions, improved animal well-being, reduced impact on the environment, and improved pork quality or food safety.
The Banff Pork Seminar is co-ordinated by the Department of Agricultural, Food and Nutritional Sciences, University of Alberta, in co-operation with Alberta Pork, Alberta Agriculture, Food and Rural Development and other pork industry representatives from across Canada. This year's Seminar played host to more than 825 delegates from throughout North America and Europe.